Whether it's granite, marble or laminate colors you're looking for, it will be easy to find a countertop color that perfectly suits your decor. include many choices in golden browns, pale pinks, deep plums, romantic reds, exotic blues, greens, blacks and many subtle shades in-between.
Blacks and gray granite colors or Silestone colors will create a sleek and modern look that is cool and sophisticated while gold, brown and ivory counter top colors have an old-world, rustic charm that is comfortable yet elegant.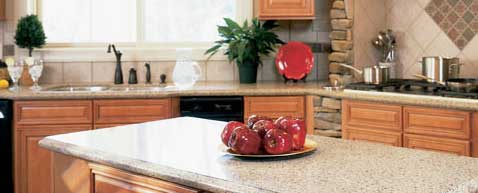 Blue and purple are vibrant and energetic. Darker reds and plums are cozy and romantic and greens can be casual or formal depending on the shade you choose.
Surface patterns typically will have a flecked or pebbled appearance which can vary in size and shape and in the density of the pattern depending on the particular mix of quartz, crystals and minerals that make up the stone.
The pattern can be highly structured offering a uniform appearance over the entire countertop or the pattern may change continually, without repetition, called "movement".
granite counter tops and other stones developed their color and pattern over millions of years of natural formation creating a surface that is truly unique.
So, it's never a problem finding a granite counter top color or pattern that fits with your design. The trick is deciding which of the gorgeous granites you love the most!